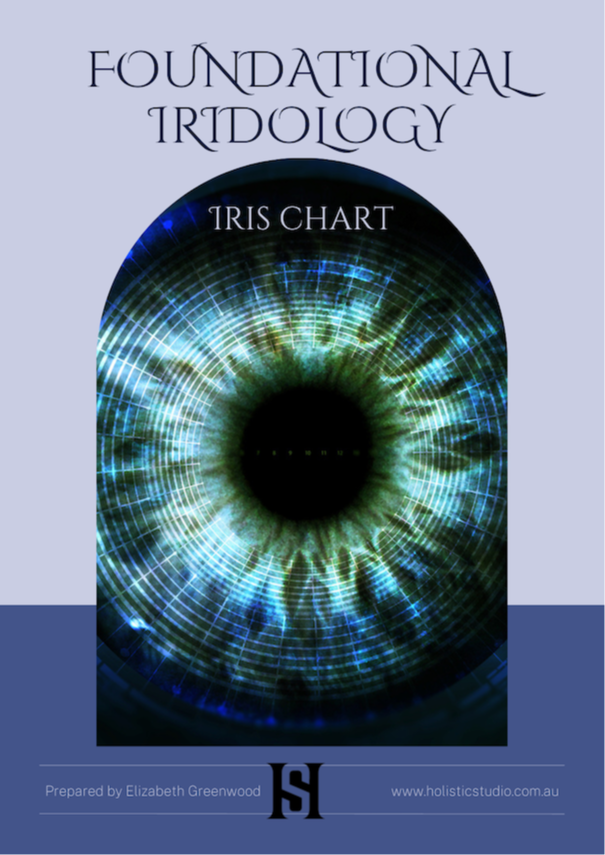 Foundational Iridology focuses on theoretical understanding of the fundamentals of practical iris analysis.
It is suitable for all modalities and those looking to refresh their knowledge.
As a professional level course, we will cover the following topics, and more:
Using Iris reading to assist in creating an individual assessment and treatment plan.

 Confidently interpret individual constitutions and learn how this impacts health, habits and healing

Discover personality types and key emotional signs in the iris
Cover the different colours related to symptom presentation
Learn to look for the major 'Systemic' signs that can be our weakened system
Determine the common minor or 'Specific' signs and quickly apply your interpretation to cases
How to read a chart, take notes and ask the right questions. 
Live & Interactive,
practical & informative!
All the foundational information in a practical and succinct way that enables you to begin implementing elements confidently into the consultation process straight away
JOIN NOW
The next Foundational Iridology course starts on the 29th January. Save your place today!
TOPICS COVERED...
IRIDOLOGY
FOUNDATIONS ARE TAUGHT IN A STEP BY STEP METHOD
Gain confidence in your Iridology skills and practice.
Methodical step by step method gives confidence and prevents overwhelm
Relate to your clients and provide personalised treatments
Build rapport with your clients' through understanding their individual treatment needs through Iridology
Learn how to ask questions, do reports and use effectively in your practice
Have fun, interact and learn with your colleagues 
Suitable for all modalities!
Professional level CPE course, endorsed by ANTA.
SELF PACED & INTERACTIVE
Six comprehensive modules with interactive lessons focusing on clinically relevant information. Access on your desktop or mobile.
LIVE DISCUSSION GROUPS
Ask any questions, learn from each other and review cases live every week during the course and for another 12 months after the course to assist your knowledge in practice.
PROFESSIONAL WEBINARS
Detailed webinar presentations with downloadable notes to deepen your understanding of the topics.
COMMUNITY FORUM
An online community where you can confidentially discuss, post questions and interact with like-minded colleagues.
INTERESTING PROJECTS
Optional quizzes and projects (that are not assessable) but they will be a lot of fun to do.
SUPPORT and CPE
Responsive support and new information throughout your professional level course.
Foundational Iridology Desk reference eBook
This 42 page full colour desk reference covers the foundational information to confidently read any iris. Complete with examples, key words to use and specific remedies for the sign, even space to add your own notes.
$24.95 or Free with the course.
View Book
Foundational Iridology Iris Chart
This chart is suitable for use by beginners of iris analysis and contains the most common areas seen in the iris. Includes a reference chart and dot points to guide your interpretations and focus your readings.
$12.95 or Free with course
View Iris Chart
WHAT DO YOU COVER IN THE COURSE?
MODULE 1: INTRODUCTION AND EQUIPMENT
MODULE 2: THE CONSTITUTION
MODULE 3: THE COLOURS
MODULE 4: THE DIGESTION
MODULE 5: SYSTEMIC SIGNS
MODULE 6: SPECIFIC SIGNS AND THE CHART
I'M ELIZABETH, A HOLISTIC AND TRADITIONALLY TRAINED NATUROPATH and MASTER HERBALIST
I am known for my enthusiasm and dedication to embodying traditional and modern medicines, having been in the profession of Natural health for 30 years.
These courses that I offer started from a need to keep traditional knowledge at the forefront of our practice.
I enjoy all aspects of Iridology, especially combining the physical with the mental and emotional characteristic and presentations. 
Join me on a journey into the world of iridology, the eyes being the windows to the soul (mind, body and emotions). A self-discovery and professional growth course to provide you with enhanced clinical confidence.
About me
"Using iridology to assist in questioning - what a great tool. Also the constitutions and meanings of certain colours and spots in the iris. Everything was very interesting and I found it super helpful to learn it in the steps."
M.W, Australia 2021
"The best things I learnt were the different personality traits of the different constitutions and the clear, medically recognised signs in the iris. Also, how to use iridology to strengthen a case. The most important thing I took away was how to relay the findings in a positive and supportive way to a client."
M.M, Australia, 2023
IS IRIDOLOGY LEGIT? 
The answer is clear - it works. So often we are caught up in the need for scientific validation, that we can forget clinical evidence is still evidence. What you see work in your practice is still a valid measure of wether a modality, or remedy, is effective.
I, and many others, have practised iridology for years and seen first hand the difference it can make to peoples lives. Healing is when someone feels better, they have more energy and their symptoms or signs of ill health are resolved. Focusing on the individual's health is not dependent on proof of evidence on a scientific paper. Try iridology yourself and you will see the depth of insights and healing that this knowledge can provide.
Please enquire if you have any questions about the course.
FREQUENTLY ASKED QUESTIONS
Get in touch if you have any questions regarding this course. 
Do you get a certificate with this course?
Do you offer any discounts?
What modalities can do this course?
Can I share or use info from this course?
I loved this mastercourse and want more! What other courses do you offer?
Join the Holistic Studio Mailing List
Stay in touch with courses, news, research updates and treatment ideas.
We do not share any details and only send information from Holistic Studio.